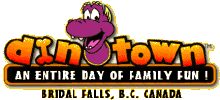 Dinotown

53480 Trans-Canada Highway

Rosedale, BC

(604) 794-ROAR
Dinotown is located in the town of Bridal Falls, British Columbia, Canada just off of the Trans-Canada Highway. It is about a half hour drive from Abbotsford, BC.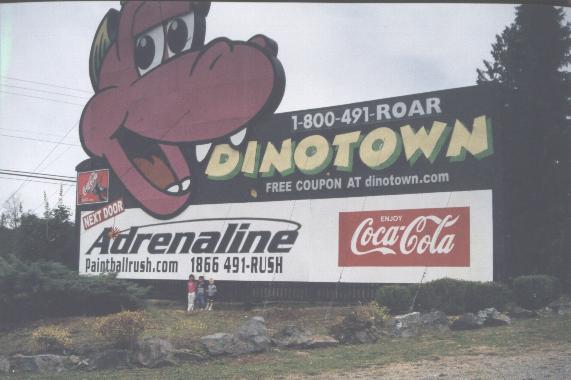 Dinotown is a very small (12 acres) childrens' amusement park. It is located just under Bridal Veil Falls, the 6th tallest waterfall in Canada. The park is more like a big, themed playground than an amusement park. There is only one mechanical ride in the park as well as several people powered rides. While the park is small, it offers a great quality experience for children and adults. It is also very inexpensive with park admission at $13 Canadian and food at very reasonable prices. To visit the park's official website, click on the logo above.
---
PARK PHOTOS
After entering the park, guests can cross a small suspension bridge and visit the group of fake dinosaurs that children can climb on. Located in the midst of these dinos is the picnic area where guests can even bring in a barbeque grill and cook some lunch. The statue of the brontosaurus is by far the largest of these dino statues. It stands about 30 feet tall. That's me standing by his tail. Below are pictures of 2 more of the dinos, a stegasaurus and a triceratops-like dinosaur.
A small stream runs through most of the park. Across the suspension bridge lies the picnic area, complete with dinosaur statues.
Bubba is riding one of the Pteradactyl Flight Squadron members. These little rides bounce up and down.
One of the best rides is the boat ride. Guests climb into log flume-type boats and are handed a paddle. The ride is long and tiring.
The hand-powered bumper cars are one of the most unique rides in the park. While the "collisions" are barely noticable, it was fun seeing how fast we could get the hand-cranked cars to go. Below is Bubba causing trouble by standing up on his bumper car. Anyone who knows Bubba won't be surprised that he is causing trouble.
To the left is the pedal powered car ride. Below are pictures from a couple of the shows. The right is Dexter telling a story at his treehouse. The left is a shot from the park's main song and dance show featuring the entire Dino family.
Top Left-Dusty Dino's car

Top Right-The "Slide-a-saurus"

Left-The park's one mechanical ride, a train. The train takes riders all around the park, showing off all the other rides and the various dinosaur statues.