| | |
| --- | --- |
| | Riverfront Park in Spokane isn't really an amusement park. It is a city park that happens to have some rides. Imagine the Seattle Center in a beautiful grassy environment. The major rides are a 1909 Loopf carousel that lets you grab for the brass ring, a "train" ride around the park, and a sky tram over Spokane Falls. The park was originally the site of the Worlds Fair. |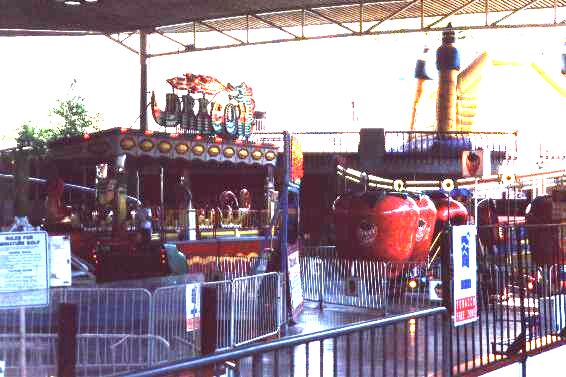 During the summer, this area has a number of amusement rides including the Dragon Coaster. During the winter this is one of the best outdoor ice skating rinks around.
| | | |
| --- | --- | --- |
| | The Loopf carousel on the left. To the right is the park's Ferris Wheel. | |
Our fearless club leader feeding one of the park's many geese.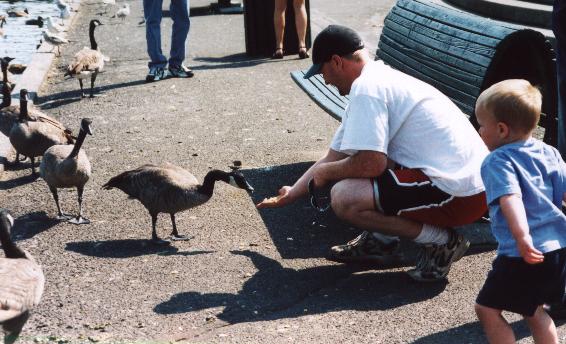 | | |
| --- | --- |
| | This 45 minute train ride takes you all around the park. You see all the rides, gardens, and attractions the park has to offer. |
| | |
| --- | --- |
| | This giant Radio Flyer wagon is also a slide. |
| | |
| --- | --- |
| | Micah says "peek-a-boo". This is a metal sculpture of the American flag. Right next to it was a Canadian version. |
| | |
| --- | --- |
| | The sky tram takes you over beautiful Spokane Falls. During the summer, the falls are a mere trickle, but in the winter the river roars down the face of the rocks. |